Less "popeln" - more fun: SFP and XFP dust caps with zero "Popel-Factor" from the Flexoptix lab
Optical components are sensitive equipment. They want to be kept clean. That's what makes them happy. That's what makes them work properly. Just a tiny bit of dust on the diode surface can reduce light detection and can influence the overall performance of your link. I think you aggree when I state that we do not want errors on the links at all.
Therefore when you order a transceiver, you'll receive it with a dust cap - protecting the laser and diode from dirt.But if you've ever plugged in several transceivers at the same time, you'll understand what we call "Popel-Factor". And if you ever had to plug transceivers into a port, where the immediate neighbours were already occupied, you'll completely understand why you would want to keep the "Popel-Factor" as small as possible to increase your joy at work.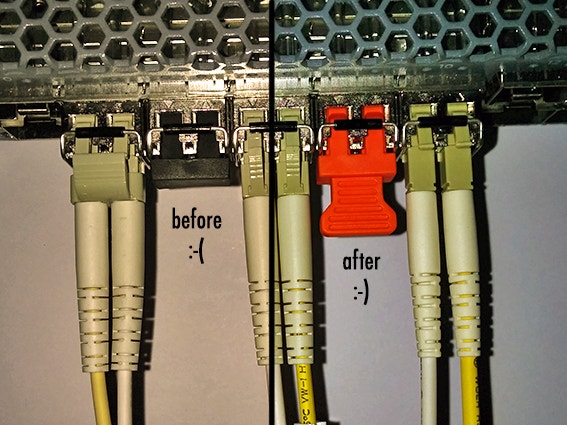 Try to free a transceiver from the dust cap when the direct ports on the left and right are running...
"Popel" is german and literarily means booger. To get rid of this foreign matter in their nose, people poke their finger up their nose and pick it. This activity is called "popeln" in german slang. And this action is fairly close to the activity of freeing the transceivers from their dust caps.
When Thomas (our CTO) worked in data centers and plugged in large amounts of transceivers he had to "popel" a lot. Which always annoyed him. Until he saw the long, beautiful and easy to take off dust caps that are used in hardware production: "They are all specifically made to be put on and off a lot during production processes; that makes them easy to handle. And the best part is: I don't nearly break my fingers every time I want to free a component from its dust cap. That's what I really like", he explains.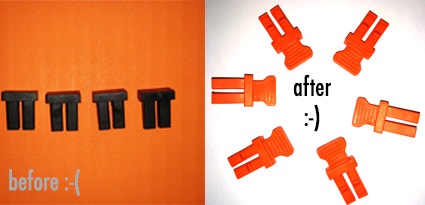 Dust caps of Transceivers | left: the old "popel" version | right: the new "popel-free" version
That's the story behind our new dust caps with zero "Popel-Factor". And now we also have them available for you. Here's a picture, the fun-effect you'll have to experience on your own ;-)
Sources:
http://en.wikipedia.org/wiki/Nose-picking