Universal Transceiver - One Transceiver for Various Switch Vendors
Tired of searching the right transceiver for your system?
You can use our Universal Transceiver in devices from about 200 vendors.
Use our FLEXBOX to configure them on your own or just order them pre-configured.
For DWDM, we also provide tunable DWDM transceiver. Additionally to the vendor compatibility, you can also tune the channel/wavelength within seconds.
| | |
| --- | --- |
| Our DWDM transceiver | Our CWDM transceiver |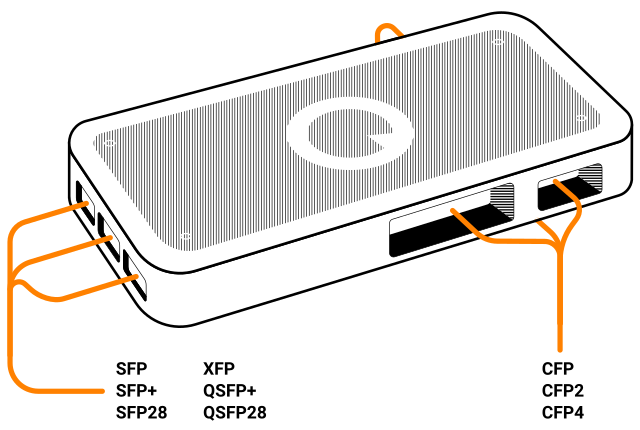 How to configure Universal Transceivers
Connect the FLEXBOX to your computer/smartphone, plug a Universal Transceiver into the box and configure it with our FLEXOPTIX-App.
Show Configuration
DWDM Channel Grid
DWDM ITU Channel
Wavelength (in nm)
Frequency (in THz)

Cisco DWDM Channel
(Catalyst, Nexus, NC, ASR, ME series)

Cisco DWDM Channel
(ONS series)
ADVA DWDM Channel
 
1604.03
186.90
 
Cisco L-Band Channel 32
 
 
1603.17
187.00
 
Cisco L-Band Channel 31
ADVA Channel 18700 (#D64)
 
1602.31
187.10
 
Cisco L-Band Channel 30
ADVA Channel 18710 (#D63)
 
1601.46
187.20
 
Cisco L-Band Channel 29
ADVA Channel 18720 (#D62)
 
1600.60
187.30
 
Cisco L-Band Channel 28
ADVA Channel 18730 (#D61)
 
1599.75
187.40
 
Cisco L-Band Channel 27
ADVA Channel 18740 (#DL8)
 
1598.89
187.50
 
Cisco L-Band Channel 26
ADVA Channel 18750 (#D60)
 
1598.04
187.60
 
Cisco L-Band Channel 25
ADVA Channel 18760 (#D59)
 
1597.19
187.70
 
Cisco L-Band Channel 24
ADVA Channel 18770 (#D58)
 
1596.34
187.80
 
Cisco L-Band Channel 23
ADVA Channel 18780 (#D57)
 
1595.49
187.90
 
Cisco L-Band Channel 22
ADVA Channel 18790 (#DL7)
 
1594.64
188.00
 
Cisco L-Band Channel 21
ADVA Channel 18800 (#D56)
 
1593.79
188.10
 
Cisco L-Band Channel 20
ADVA Channel 18810 (#D55)
 
1592.95
188.20
 
Cisco L-Band Channel 19
ADVA Channel 18820 (#D54)
 
1592.10
188.30
 
Cisco L-Band Channel 18
ADVA Channel 18830 (#D53)
 
1591.26
188.40
 
Cisco L-Band Channel 17
ADVA Channel 18840 (#DL6)
 
1590.41
188.50
 
Cisco L-Band Channel 16
ADVA Channel 18850 (#D52)
 
1589.57
188.60
 
Cisco L-Band Channel 15
ADVA Channel 18860 (#D51)
 
1588.73
188.70
 
Cisco L-Band Channel 14
ADVA Channel 18870 (#D50)
 
1587.88
188.80
 
Cisco L-Band Channel 13
ADVA Channel 18880 (#D49)
 
1587.04
188.90
 
Cisco L-Band Channel 12
ADVA Channel 18890 (#DL5)
 
1586.20
189.00
 
Cisco L-Band Channel 11
ADVA Channel 18900 (#DL9)
 
1585.36
189.10
 
Cisco L-Band Channel 10
ADVA Channel 18910 (#DL4)
 
1584.53
189.20
 
Cisco L-Band Channel 9
ADVA Channel 18920 (#D48)
 
1583.69
189.30
 
Cisco L-Band Channel 8
ADVA Channel 18930 (#D47)
 
1582.85
189.40
 
Cisco L-Band Channel 7
ADVA Channel 18940 (#D46)
 
1582.02
189.50
 
Cisco L-Band Channel 6
ADVA Channel 18950 (#D45)
 
1581.18
189.60
 
Cisco L-Band Channel 5
ADVA Channel 18960 (#DL3)
 
1580.35
189.70
 
Cisco L-Band Channel 4
ADVA Channel 18970 (#D44)
 
1579.52
189.80
 
Cisco L-Band Channel 3
ADVA Channel 18980 (#D43)
 
1578.69
189.90
 
Cisco L-Band Channel 2
ADVA Channel 18990 (#D42)
 
1577.86
190.00
 
Cisco L-Band Channel 1
ADVA Channel 19000 (#D41)
DWDM ITU Channel 1
1577.03
190.10
 
 
ADVA Channel 19010 (#DL2)
DWDM ITU Channel 1.5
1576.61
190.15
 
 
 
DWDM ITU Channel 2
1576.20
190.20
 
 
ADVA Channel 19020 (#D40)
DWDM ITU Channel 2.5
1575.78
190.25
 
 
 
DWDM ITU Channel 3
1575.37
190.30
 
 
ADVA Channel 19030 (#D39)
DWDM ITU Channel 3.5
1574.95
190.35
 
 
 
DWDM ITU Channel 4
1574.54
190.40
 
 
ADVA Channel 19040 (#D38)
DWDM ITU Channel 4.5
1574.13
190.45
 
 
 
DWDM ITU Channel 5
1573.71
190.50
 
 
ADVA Channel 19050 (#D37)
DWDM ITU Channel 5.5
1573.30
190.55
 
 
 
DWDM ITU Channel 6
1572.89
190.60
 
 
ADVA Channel 19060 (#DL1)
DWDM ITU Channel 6.5
1572.48
190.65
 
 
 
DWDM ITU Channel 7
1572.06
190.70
 
 
ADVA Channel 19070 (#D36)
DWDM ITU Channel 7.5
1571.65
190.75
 
 
 
DWDM ITU Channel 8
1571.24
190.80
 
 
ADVA Channel 19080 (#D35)
DWDM ITU Channel 8.5
1570.83
190.85
 
 
 
DWDM ITU Channel 9
1570.42
190.90
 
 
ADVA Channel 19090 (#D34)
DWDM ITU Channel 9.5
1570.01
190.95
 
 
 
DWDM ITU Channel 10
1569.59
191.00
 
 
ADVA Channel 19100 (#D33)
DWDM ITU Channel 10.5
1569.18
191.05
 
 
 
DWDM ITU Channel 11
1568.77
191.10
 
 
 
DWDM ITU Channel 11.5
1568.36
191.15
 
 
 
DWDM ITU Channel 12
1567.95
191.20
 
 
 
DWDM ITU Channel 12.5
1567.54
191.25
 
 
ADVA Channel 19125
DWDM ITU Channel 13
1567.13
191.30
 
 
ADVA Channel 19130
DWDM ITU Channel 13.5
1566.72
191.35
Cisco Channel 1
 
ADVA Channel 19135
DWDM ITU Channel 14
1566.31
191.40
Cisco Channel 2
 
ADVA Channel 19140
DWDM ITU Channel 14.5
1565.90
191.45
Cisco Channel 3
 
ADVA Channel 19145
DWDM ITU Channel 15
1565.50
191.50
Cisco Channel 4
 
ADVA Channel 19150
DWDM ITU Channel 15.5
1565.09
191.55
Cisco Channel 5
 
ADVA Channel 19155
DWDM ITU Channel 16
1564.68
191.60
Cisco Channel 6
 
ADVA Channel 19160
DWDM ITU Channel 16.5
1564.27
191.65
Cisco Channel 7
 
ADVA Channel 19165
DWDM ITU Channel 17
1563.86
191.70
Cisco Channel 8
 
ADVA Channel 19170
DWDM ITU Channel 17.5
1563.45
191.75
Cisco Channel 9
 
ADVA Channel 19175
DWDM ITU Channel 18
1563.05
191.80
Cisco Channel 10
 
ADVA Channel 19180
DWDM ITU Channel 18.5
1562.64
191.85
Cisco Channel 11
 
ADVA Channel 19185
DWDM ITU Channel 19
1562.23
191.90
Cisco Channel 12
 
ADVA Channel 19190
DWDM ITU Channel 19.5
1561.83
191.95
Cisco Channel 13
 
ADVA Channel 19195
DWDM ITU Channel 20
1561.42
192.00
Cisco Channel 14
 
ADVA Channel 19200 (#D32)
DWDM ITU Channel 20.5
1561.01
192.05
Cisco Channel 15
 
ADVA Channel 19205
DWDM ITU Channel 21
1560.61
192.10
Cisco Channel 16
Cisco C-Band Channel 32
ADVA Channel 19210 (#D31)
DWDM ITU Channel 21.5
1560.20
192.15
Cisco Channel 17
 
ADVA Channel 19215
DWDM ITU Channel 22
1559.79
192.20
Cisco Channel 18
Cisco C-Band Channel 31
ADVA Channel 19220 (#D30)
DWDM ITU Channel 22.5
1559.39
192.25
Cisco Channel 19
 
ADVA Channel 19225
DWDM ITU Channel 23
1558.98
192.30
Cisco Channel 20
Cisco C-Band Channel 30
ADVA Channel 19230 (#D29)
DWDM ITU Channel 23.5
1558.58
192.35
Cisco Channel 21
 
ADVA Channel 19235
DWDM ITU Channel 24
1558.17
192.40
Cisco Channel 22
Cisco C-Band Channel 29
ADVA Channel 19240 (#DC8)
DWDM ITU Channel 24.5
1557.77
192.45
Cisco Channel 23
 
ADVA Channel 19245
DWDM ITU Channel 25
1557.36
192.50
Cisco Channel 24
 
ADVA Channel 19250 (#D28)
DWDM ITU Channel 25.5
1556.96
192.55
Cisco Channel 25
 
ADVA Channel 19255
DWDM ITU Channel 26
1556.55
192.60
Cisco Channel 26
Cisco C-Band Channel 28
ADVA Channel 19260 (#D27)
DWDM ITU Channel 26.5
1556.15
192.65
Cisco Channel 27
 
ADVA Channel 19265
DWDM ITU Channel 27
1555.75
192.70
Cisco Channel 28
Cisco C-Band Channel 27
ADVA Channel 19270 (#D26)
DWDM ITU Channel 27.5
1555.34
192.75
Cisco Channel 29
 
ADVA Channel 19275
DWDM ITU Channel 28
1554.94
192.80
Cisco Channel 30
Cisco C-Band Channel 26
ADVA Channel 19280 (#D25)
DWDM ITU Channel 28.5
1554.54
192.85
Cisco Channel 31
 
ADVA Channel 19285
DWDM ITU Channel 29
1554.13
192.90
Cisco Channel 32
Cisco C-Band Channel 25
ADVA Channel 19290 (#DC7)
DWDM ITU Channel 29.5
1553.73
192.95
Cisco Channel 33
 
ADVA Channel 19295
DWDM ITU Channel 30
1553.33
193.00
Cisco Channel 34
 
ADVA Channel 19300 (#D24)
DWDM ITU Channel 30.5
1552.93
193.05
Cisco Channel 35
 
ADVA Channel 19305
DWDM ITU Channel 31
1552.52
193.10
Cisco Channel 36
Cisco C-Band Channel 24
ADVA Channel 19310 (#D23)
DWDM ITU Channel 31.5
1552.12
193.15
Cisco Channel 37
 
ADVA Channel 19315
DWDM ITU Channel 32
1551.72
193.20
Cisco Channel 38
Cisco C-Band Channel 23
ADVA Channel 19320 (#D22)
DWDM ITU Channel 32.5
1551.32
193.25
Cisco Channel 39
 
ADVA Channel 19325
DWDM ITU Channel 33
1550.92
193.30
Cisco Channel 40
Cisco C-Band Channel 22
ADVA Channel 19330 (#D21)
DWDM ITU Channel 33.5
1550.52
193.35
Cisco Channel 41
 
ADVA Channel 19335
DWDM ITU Channel 34
1550.12
193.40
Cisco Channel 42
Cisco C-Band Channel 21
ADVA Channel 19340 (#DC6)
DWDM ITU Channel 34.5
1549.72
193.45
Cisco Channel 43
 
ADVA Channel 19345
DWDM ITU Channel 35
1549.32
193.50
Cisco Channel 44
 
ADVA Channel 19350 (#D20)
DWDM ITU Channel 35.5
1548.91
193.55
Cisco Channel 45
 
ADVA Channel 19355
DWDM ITU Channel 36
1548.51
193.60
Cisco Channel 46
Cisco C-Band Channel 20
ADVA Channel 19360 (#D19)
DWDM ITU Channel 36.5
1548.11
193.65
Cisco Channel 47
 
ADVA Channel 19365
DWDM ITU Channel 37
1547.72
193.70
Cisco Channel 48
Cisco C-Band Channel 19
ADVA Channel 19370 (#D18)
DWDM ITU Channel 37.5
1547.32
193.75
Cisco Channel 49
 
ADVA Channel 19375
DWDM ITU Channel 38
1546.92
193.80
Cisco Channel 50
Cisco C-Band Channel 18
ADVA Channel 19380 (#D17)
DWDM ITU Channel 38.5
1546.52
193.85
Cisco Channel 51
 
ADVA Channel 19385
DWDM ITU Channel 39
1546.12
193.90
Cisco Channel 52
Cisco C-Band Channel 17
ADVA Channel 19390 (#DC5)
DWDM ITU Channel 39.5
1545.72
193.95
Cisco Channel 53
 
ADVA Channel 19395
DWDM ITU Channel 40
1545.32
194.00
Cisco Channel 54
 
ADVA Channel 19400 (#DC9)
DWDM ITU Channel 40.5
1544.92
194.05
Cisco Channel 55
 
ADVA Channel 19405
DWDM ITU Channel 41
1544.53
194.10
Cisco Channel 56
Cisco C-Band Channel 16
ADVA Channel 19410 (#DC4)
DWDM ITU Channel 41.5
1544.13
194.15
Cisco Channel 57
 
ADVA Channel 19415
DWDM ITU Channel 42
1543.73
194.20
Cisco Channel 58
Cisco C-Band Channel 15
ADVA Channel 19420 (#D16)
DWDM ITU Channel 42.5
1543.33
194.25
Cisco Channel 59
 
ADVA Channel 19425
DWDM ITU Channel 43
1542.94
194.30
Cisco Channel 60
Cisco C-Band Channel 14
ADVA Channel 19430 (#D15)
DWDM ITU Channel 43.5
1542.54
194.35
Cisco Channel 61
 
ADVA Channel 19435
DWDM ITU Channel 44
1542.14
194.40
Cisco Channel 62
Cisco C-Band Channel 13
ADVA Channel 19440 (#D14)
DWDM ITU Channel 44.5
1541.75
194.45
Cisco Channel 63
 
ADVA Channel 19445
DWDM ITU Channel 45
1541.35
194.50
Cisco Channel 64
 
ADVA Channel 19450 (#D13)
DWDM ITU Channel 45.5
1540.95
194.55
Cisco Channel 65
 
ADVA Channel 19455
DWDM ITU Channel 46
1540.56
194.60
Cisco Channel 66
Cisco C-Band Channel 12
ADVA Channel 19460 (#DC3)
DWDM ITU Channel 46.5
1540.16
194.65
Cisco Channel 67
 
ADVA Channel 19465
DWDM ITU Channel 47
1539.77
194.70
Cisco Channel 68
Cisco C-Band Channel 11
ADVA Channel 19470 (#D12)
DWDM ITU Channel 47.5
1539.37
194.75
Cisco Channel 69
 
ADVA Channel 19475
DWDM ITU Channel 48
1538.98
194.80
Cisco Channel 70
Cisco C-Band Channel 10
ADVA Channel 19480 (#D11)
DWDM ITU Channel 48.5
1538.58
194.85
Cisco Channel 71
 
ADVA Channel 19485
DWDM ITU Channel 49
1538.19
194.90
Cisco Channel 72
Cisco C-Band Channel 9
ADVA Channel 19490 (#D10)
DWDM ITU Channel 49.5
1537.79
194.95
Cisco Channel 73
 
ADVA Channel 19495
DWDM ITU Channel 50
1537.40
195.00
Cisco Channel 74
 
ADVA Channel 19500 (#D09)
DWDM ITU Channel 50.5
1537.00
195.05
Cisco Channel 75
 
ADVA Channel 19505
DWDM ITU Channel 51
1536.61
195.10
Cisco Channel 76
Cisco C-Band Channel 8
ADVA Channel 19510 (#DC2)
DWDM ITU Channel 51.5
1536.22
195.15
Cisco Channel 77
 
ADVA Channel 19515
DWDM ITU Channel 52
1535.82
195.20
Cisco Channel 78
Cisco C-Band Channel 7
ADVA Channel 19520 (#D08)
DWDM ITU Channel 52.5
1535.43
195.25
Cisco Channel 79
 
ADVA Channel 19525
DWDM ITU Channel 53
1535.04
195.30
Cisco Channel 80
Cisco C-Band Channel 6
ADVA Channel 19530 (#D07)
DWDM ITU Channel 53.5
1534.64
195.35
Cisco Channel 81
 
ADVA Channel 19535
DWDM ITU Channel 54
1534.25
195.40
Cisco Channel 82
Cisco C-Band Channel 5
ADVA Channel 19540 (#D06)
DWDM ITU Channel 54.5
1533.86
195.45
Cisco Channel 83
 
ADVA Channel 19545
DWDM ITU Channel 55
1533.47
195.50
Cisco Channel 84
 
ADVA Channel 19550 (#D05)
DWDM ITU Channel 55.5
1533.07
195.55
Cisco Channel 85
 
ADVA Channel 19555
DWDM ITU Channel 56
1532.68
195.60
Cisco Channel 86
Cisco C-Band Channel 4
ADVA Channel 19560 (#DC1)
DWDM ITU Channel 56.5
1532.29
195.65
Cisco Channel 87
 
ADVA Channel 19565
DWDM ITU Channel 57
1531.90
195.70
Cisco Channel 88
Cisco C-Band Channel 3
ADVA Channel 19570 (#D04)
DWDM ITU Channel 57.5
1531.51
195.75
Cisco Channel 89
 
ADVA Channel 19575
DWDM ITU Channel 58
1531.12
195.80
Cisco Channel 90
Cisco C-Band Channel 2
ADVA Channel 19580 (#D03)
DWDM ITU Channel 58.5
1530.72
195.85
Cisco Channel 91
 
ADVA Channel 19585
DWDM ITU Channel 59
1530.33
195.90
Cisco Channel 92
Cisco C-Band Channel 1
ADVA Channel (#D02)
DWDM ITU Channel 59.5
1529.94
195.95
Cisco Channel 93
 
ADVA Channel 19595
DWDM ITU Channel 60
1529.55
196.00
Cisco Channel 94
 
ADVA Channel 19600 (#D01)
DWDM ITU Channel 60.5
1529.16
196.05
Cisco Channel 95
 
 
DWDM ITU Channel 61
1528.77
196.10
Cisco Channel 96
 
 
DWDM ITU Channel 61.5
1528.38
196.15
 
 
 
DWDM ITU Channel 62
1527.99
196.20
 
 
 
DWDM ITU Channel 62.5
1527.60
196.25
 
 
 
DWDM ITU Channel 63
1527.22
196.30
 
 
 
DWDM ITU Channel 63.5
1526.83
196.35
 
 
 
DWDM ITU Channel 64
1526.44
196.40
 
 
 
DWDM ITU Channel 64.5
1526.05
196.45
 
 
 
DWDM ITU Channel 65
1525.66
196.50
 
 
 
DWDM ITU Channel 65.5
1525.27
196.55
 
 
 
DWDM ITU Channel 66
1524.89
196.60
 
 
 
DWDM ITU Channel 66.5
1524.50
196.65
 
 
 
DWDM ITU Channel 67
1524.11
196.70
 
 
 
DWDM ITU Channel 67.5
1523.72
196.75
 
 
 
DWDM ITU Channel 68
1523.34
196.80
 
 
 
DWDM ITU Channel 68.5
1522.95
196.85
 
 
 
DWDM ITU Channel 69
1522.56
196.90
 
 
 
DWDM ITU Channel 69.5
1522.18
196.95
 
 
 
DWDM ITU Channel 70
1521.79
197.00
 
 
 
DWDM ITU Channel 70.5
1521.40
197.05
 
 
 
DWDM ITU Channel 71
1521.02
197.10
 
 
 
DWDM ITU Channel 71.5
1520.63
197.15
 
 
 
DWDM ITU Channel 72
1520.25
197.20
 
 
 
DWDM ITU Channel 72.5
1519.86
197.25
 
 
 
DWDM ITU Channel 73
1519.48
197.30
 
 
 
DWDM ITU Channel 73.5
1519.09
197.35
 
 
 
DWDM ITU Channel 74
1518.71
197.40
 
 
 
DWDM ITU Channel 74.5
1518.32
197.45
 
 
 
DWDM ITU Channel 75
1517.94
197.50
 
 
 
DWDM ITU Channel 75.5
1517.55
197.55
 
 
 
DWDM ITU Channel 76
1517.17
197.60
 
 
 
DWDM ITU Channel 76.5
1516.78
197.65
 
 
 
DWDM ITU Channel 77
1516.40
197.70
 
 
 
DWDM ITU Channel 77.5
1516.02
197.75
 
 
 
DWDM ITU Channel 78
1515.63
197.80
 
 
 
DWDM ITU Channel 78.5
1515.25
197.85
 
 
 
DWDM ITU Channel 79
1514.87
197.90
 
 
 
DWDM ITU Channel 79.5
1514.49
197.95
 
 
 
CWDM ITU Channels
| Wavelength (in nm) | Frequency (in THz) |
| --- | --- |
| 1271 | 235.87 |
| 1291 | 232.22 |
| 1311 | 228.67 |
| 1331 | 225.24 |
| 1351 | 221.90 |
| 1371 | 218.67 |
| 1391 | 215.52 |
| 1411 | 212.47 |
| 1431 | 209.50 |
| 1451 | 206.61 |
| 1471 | 203.80 |
| 1491 | 201.07 |
| 1511 | 198.41 |
| 1531 | 195.81 |
| 1551 | 193.29 |
| 1571 | 190.83 |
| 1591 | 188.43 |
| 1611 | 186.09 |
Information for the different wavelength bands: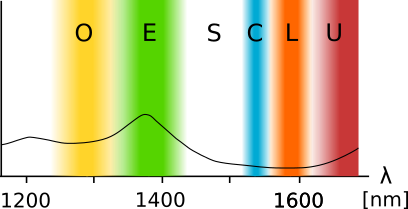 O-Band: 1270nm to 1370nm
E-Band: 1371nm to 1470nm
S-Band: 1471nm to 1530nm
C-Band: 1531nm to 1570nm
L-Band: 1571nm to 1611nm