Is the transceiver you are looking for not in stock?
Is the 1G transceiver you are looking for currently not in stock? In uncommon times one needs to look from a new angle.
Either look for the "industrial version" - the only difference is the temperature range (mainly from -40°C to +85°C)
Or why not use "10G SFP+ Transceivers" to build a 1G link?
Or you can choose a 1G SFP with a "higher power budget" (e.g. 20km instead of 10km - only marginally different in price)
Using the industrial version
Advantages
The standard commercial version usually has 0°C to +70°
The industrial version is capable of between -40°C to +85°C but the other functionality it is still the same as the original transceiver
The industrial transceivers have the same article number but with an "I" at the end
Examples:
Using a 10G SFP+ Transceiver as 1G Transceiver
Advantages
"Shorter lead time" when ordering 10G from the FLEXOPTIX warehouse
Purchasing 10G is looking to the "future of your infrastructure" - no need to buy 10G again, just change the configuration if you upgrade your devices from 1G to 10G
The "Data-rate" can be "changed" easily by using the FLEXBOX
Of course, you may ask yourself
If I have a switch with only SFP ports – will the 10G SFP+ work with that?
Yes, you can use the SFP+ in the SFP ports  - but before that please configure the SFP+ to the appropriate 1G with our FLEXBOX (e.g. Cisco Systems GLC-LH-SMD)
Does the 10Gb SFP+ auto-negotiate to 1Gb?
If you plug  a 10G SFP+ into a SFP+ port it will run with 10G. To establish a 1G connection to another 1G interface you should configure the SFP+ to 1G by using our FLEXBOX. In some cases it will be necessary to set the port to 1G as well.
Examples for industrial version and 10G SFP+ to be used as alternative for 1G SFP
| | |
| --- | --- |
| 1G SFP | 10G SFP+ |
| | |
| | |
| | |
| | |
Using the to configure your optics - how easy is this?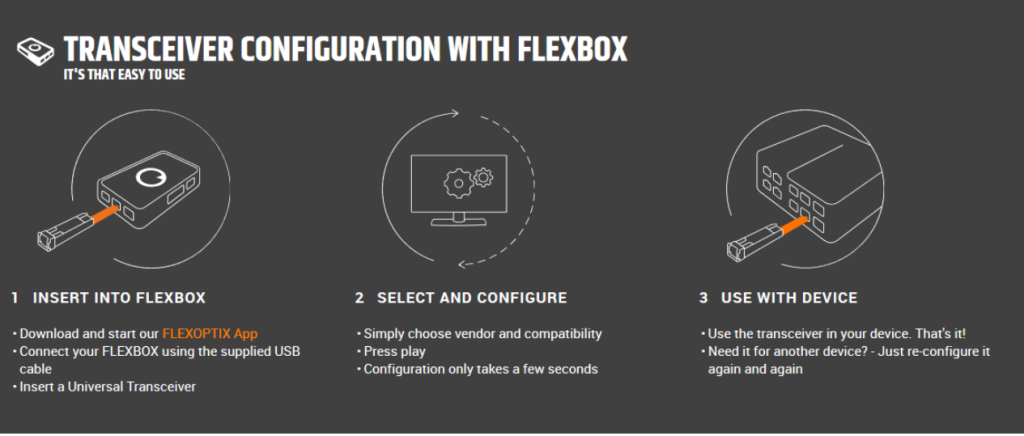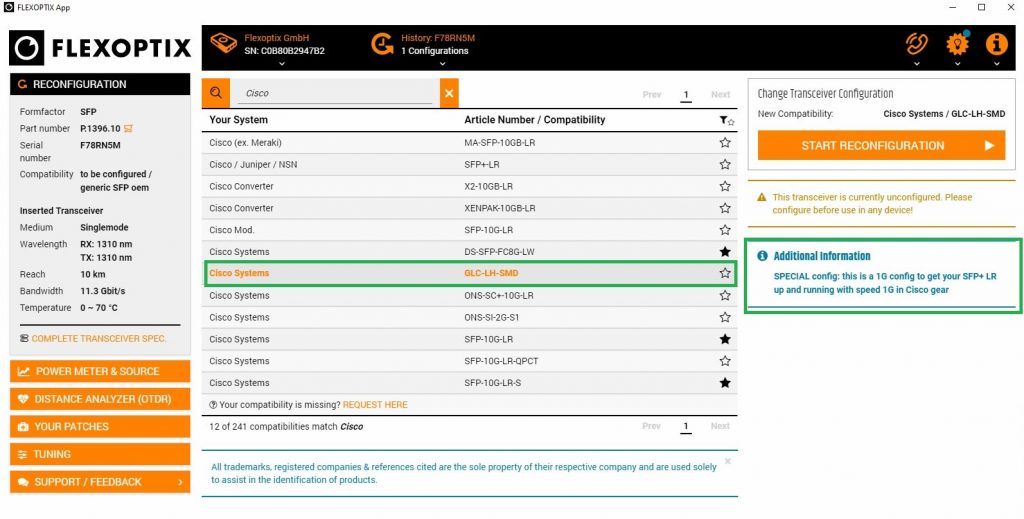 Still unsure ? Just give us a call or contact us via our
contact form
- we will find the right solution for you.