FLEXBOX: Distance Analyzer with microOTDR Transceiver
Inspect the optical link loss or locate faults in your fiber with the 
Distance Analyzer
 of your FLEXBOX in combination with our .
The
Distance Analyzer
offers a graphical representation to display the total length of your optical fiber including all sub segments without additional equipment besides our .
Detect and locate faulty connections during installation and maintenance
Measure total fiber length, to determine which transceiver budget is necessary
One side measurement: Only one side of the link is needed to measure the link length
Single-direction distance analysis and segment identification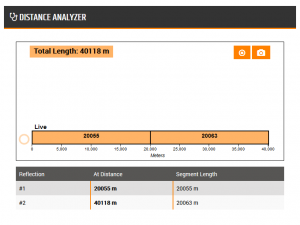 Measuring the total length of a 40118 meter long optical fiber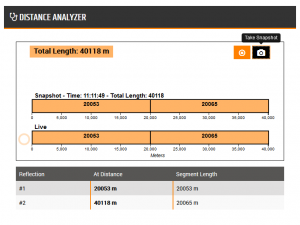 Comparing a snapshot of the previous 40118 meter long segment with the current setup.
A comprehensible graph visualizes the fiber's segments and their lengths in real time. You can create a snapshot of this graph, in case you do a documentation for your installation. The table below the graph will provide information about the specific measurements with reflection, distinct distance and the according segment length.
The
Distance Analyzer
can handle single mode fibers of dimensions between several meters and 40km. The resulting precision for measurements of fiber lengths > 500m is about 10m and of lengths > 5000m around 150m.