Mar 19, 2018 - Mar 20, 2018 | Warsaw, Poland
PLNOG 20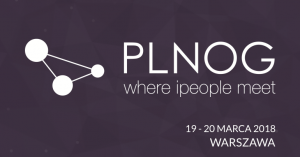 We're on the road again and - as usual - easy to spot. Just watch out for bright orange. If you are at the event or nearby, drop us a note
(meetus@flexoptix.net)
and we will arrange a meeting.
From
March 19th
to
March 20th
we are at
PLNOG 20
which is hosted at
Double Tree by Hilton
in Warsaw.
PLNOG (the Polish network operator group) invites all Polish internet service providers, network operators, engineers to come together in one place. This is a great opportunity to not only meet people from FLEXOPTIX.
Agenda
The event will focus on the following topics
The evolution of network and technology over the past decade
Perspectives of the telco market development
Telemetry and network automation
Network security and DDoS attacks
Artificial Intelligence
Additional information and
Sign-Up
can be found at
plnog.pl